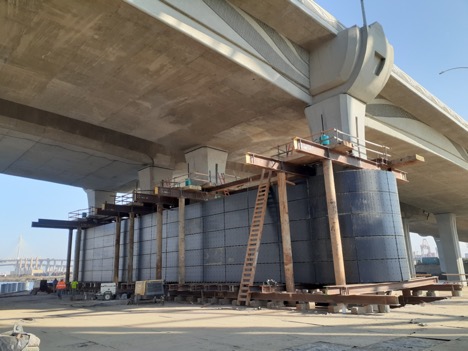 Schuyler Heim, Bridge Fender Lowering (Long Beach, CA)
The Schuyler Heim Replacement Bridge was designed to carry seven lanes of State Route 47 across the Cerritos Channel to Terminal Island.  Decommissioning and replacement work was awarded to MCM Construction, Inc. and began in 2011.  The new bridge was completed in September 2020 and provides a 180 ft. wide navigable channel for passage of ships.
At the navigable channel, protection against accidental ship collision with the bridge piers is provided by concrete "fenders" weighing over two million pounds each.   The fender lowering portion of the project was awarded to Schwager Davis, Inc.  Thanks to SDI's excellent engineering and ironworking teams, work proceeded safely and smoothly, and the project is now complete!